Accelerated Rider Training 
                              Ride Smarter  .Safer ..Smoother …Faster
UPDATE FOR JULY – SEPTEMBER 2023
In an exciting development, we are now overseas in UK / Europe for a few months, getting ready to offer a new additional riding experience – small, tailored group motorcycle tours in England, Wales, Scotland and Europe !!   Full training, bike hire and group or self guided tours will be underway soon – register your interest with a short note to myself using [email protected] as places will be limited.
This means NZ TRAINING IS SUSPENDED UNTIL LATE SEPT 2023 – the booking calendar will not accept bookings during this period.  I will be able to make further announcements about continuing to provide high quality training and testing in NZ very soon.  When I or my team are in NZ, we are usually training most days and so unable to answer calls immediately – for a faster response please TEXT to 021 970 648  any questions or get help with booking in.
If you have a specific request for something a little different, drop me an email ([email protected])  or  book a class or service online now – this is easily done by selecting 'book a class' for Basic Handling Skills Training / Test or 'book an appointment' for CBTA Restricted or Full Licence training / test combinations – just use the calendar opposite to find an available date,  book in and pay immediately to secure your place – its super easy!
If you are interested in more comprehensive training, not necessarily 'test' related, then text me a message to 021 970 648 or email and I'll call you directly – thanks, David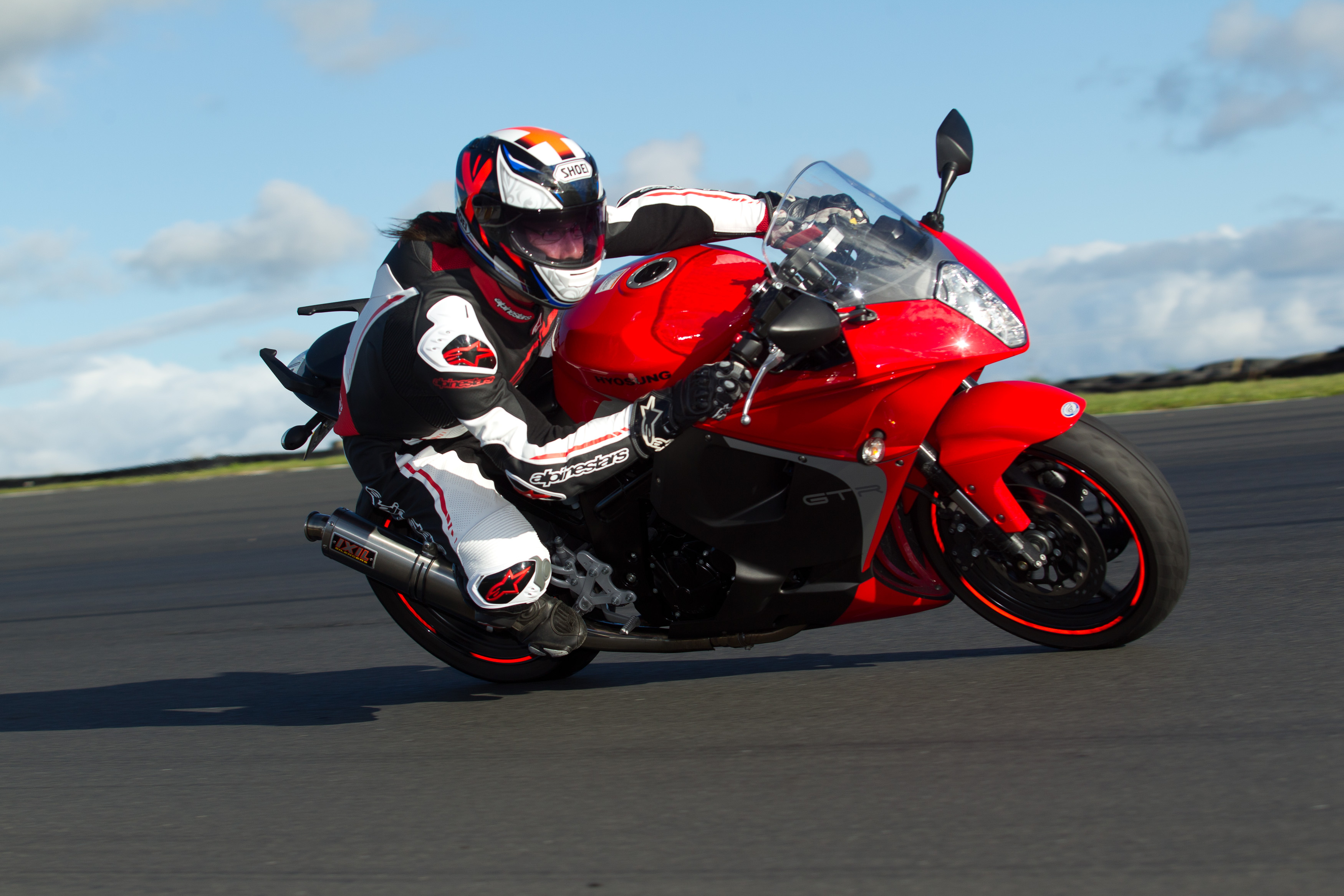 Get your Learners, CBTA Restricted or CBTA Full licence TODAY!
Are you looking for Motorbike Training on the Northshore Auckland?  You've come to the right place!  From Basic Handling Skills to CBTA Restricted and CBTA Full Licence, we can train you and assess you for all motorcycle licence classes.
We also offer Advanced One to One personalised coaching for the more experienced rider. Call (or better, TEXT) 021 970 647 to set up a time to discuss your needs. We cover it all, nothing is too hard!  We're more than happy to chat through things or send info (fill out the box below if you want info on the Learner Licence process).  To get started today and book in either use the calendar opposite or call or TEXT 021 970 648 now. 

Select the class or service you require below. Please read and select carefully. Generally, if you need to book training / a test for a CBTA Restricted or Full Licence, make sure you select "Book a service" first. For a Learner Licence, and Basic Handling Skills Training, select "Book a class". *You must have held your Restricted Licence for at least 9 months before you can sit your Full Licence Test. Check this before booking – look on the back of your licence.
Riding with David boosted my confidence as a rider. I'd had my bike for a year and barely ridden it because I didn't feel competent on the road alone. But across two one-on-one sessions with David, I learned so many useful techniques, like how to spot hazards even beyond the stretch of road you can see, how to ride in optimal and sub-optimal conditions, and I learned to identify when my concentration was maxed out and I needed a break.
David's teaching style is enthusiastic, encouraging, and a lot of fun! A month prior to riding with David, I'd been on a group riding course with another company. They'd opened their session with shock tactics, and I felt like they were trying to undermine the knowledge we already had to establish control over the session. It was pretty discouraging. Then they'd ask us trick questions with either one set answer or no answer at all, and tell you they were disappointed if we got it 'wrong'. So by contrast, David's positivity, understanding, and treating me like an adult was hugely beneficial to my learning. And when I didn't understand something, even something I thought I should know, David took the time to ensure he explained it in a way that it made sense so that I could retain it for real life riding. Not just so that I could parrot back a correct response. I had so much fun and gained so much confidence on my bike. David's training is totally tailored to each rider. He gets people. And he's a blast to ride with!
Excellent Instructor Instilling Safety and Confidence
I have worked with teachers for many years and I don't hesitate to say that David is a great teacher. His experience, skill, friendly nature and down to earth patience with the learning process quickly got rid of any nervousness I had and built confidence right from the start.  His guidance brought me through the learners stage to the restricted licence in almost no time at all but with a thorough approach that left me feeling safe and confident on the road no matter what the conditions. I would highly recommend David for anyone thinking of getting into motorcycling or simply wanting to up skill.  I will certainly be back for the full licence course and any other rides offered along the way.
TOTALLY CHANGED HOW I RIDE MY BIKE!  
David was fantastic, the training and insights he gave me totally changed how I ride my bike and I cannot recommend him more. I have done other courses but learnt more off of David in 2 hours than in other full day courses and then some!!  I recommend him highly.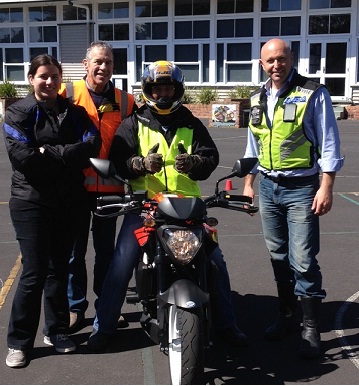 Back to biking !   March 2016
Great training, totally at ease on the test
I did training and then my restricted test with Dave. Dave is a very friendly and easygoing person. I learnt so much in just in the little time I spent the with him. On my test after the training I felt very comfortable and this was not like me, this was thanks to Dave's personality. I recommend him to anyone for any type of training you may need.
Cheers Dave and will be seeing you soon for more training before my full..
Awesome instructions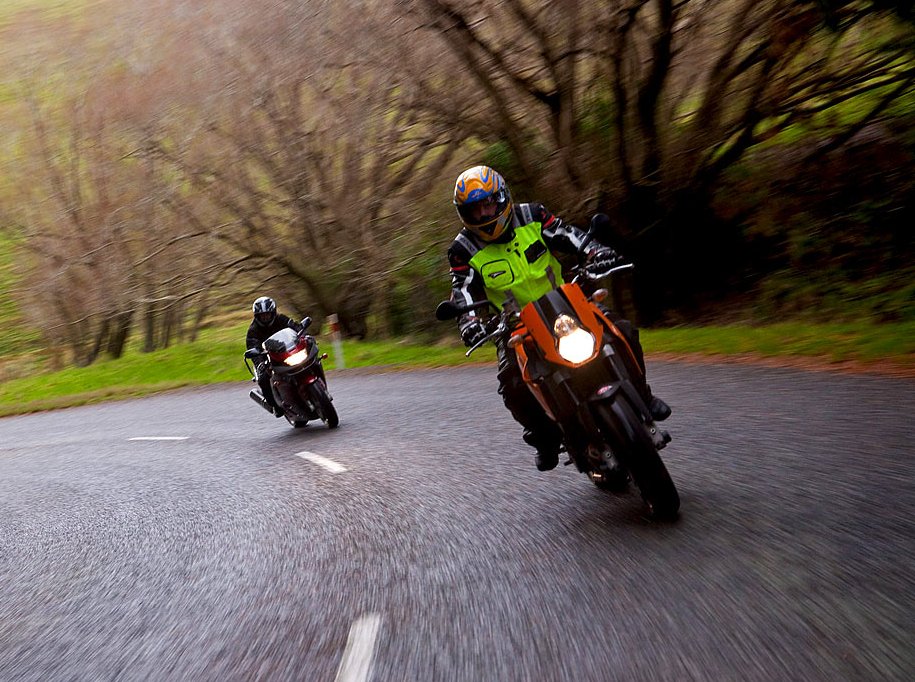 Basic Handling Skills Test – getting our Learner Licence
Good fun learning to ride
Returning riders take note!
Great teacher, very patient and knowledgeable.
Thanks David! Great teacher, very patient and knowledgeable. When i started i could hardly turn left, and couldnt even turn right. By the end of the training i was able to pass my basic handling and with more lessons i will be fully confident on the road – all thanks to David.
Streets ahead of the rest
I'm a  'kid' who's 'been around the block'. I've spent time around and in performance vehicles. This bike of mine is fantastic and I want to get the most out of it and improve myself as a rider. Now I can – and this is why: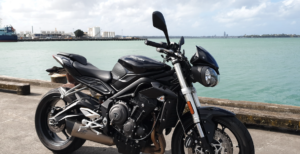 The background story first: up until and including yesterday, every stage of my training and testing and (including several Ride Forever courses) was completed with a different training company.
But – here's the thing –  no one really got through to me and actually helped my riding.  My experience across 4 other NZ training companies (including the larger, well promoted and advertised ones with all the leaflets everywhere) is that those other outfits just focus on handing out stock material, and passing your test – which is fine but let's be honest, the bar is set pretty low to pass. While others flick through a folder of handouts, David takes the time to explain, and shows you what you personally need to know and experiment with until he knows you not only understand but can also put it into practice on the road (what was supposed to be a two hour session turned into almost four only because I'm a horrible student & we were having way too much fun).
It was obvious from the start that his main focus is to transform you into a better rider, a more competent one; it's not really about karate ninja style head checks, or 'kissing your mirrors' in corners; just honest training that works. Training that exceeds the requirements of any licence test, training that will be utilised for the rest of your riding life. I can honestly say, I have walked away from David a better rider. Now… I'm off to the track.  Ash A
David is an incredible teacher. I had waited 3 years to sit my restricted as I didn't feel confident. One lesson with David and not only did I get my restricted, but more importantly, I now feel totally in control and confident in my riding! I wish I'd gone sooner!!
David is an experienced rider, so he was able to quickly pick up on areas I could improve and give me helpful feedback while we rode. The whole experience was empowering and seamless. I felt totally at ease like I was riding with a friend. Thank you David! I will be telling all my friends to see you and will be back!
Awesome Training  – April, 2016
David is the man. Such an awesome Instructor. I liked that there was a theory section that explained why certain things were done and then a practical section showing how it was done. David put me at ease and really helped expand my riding skills. Highly recommended and will definitely be going back for more lessons.    Matt L
Patience and Perseverance  Feb 2016
Absolutely the best 3 hours I have had for ages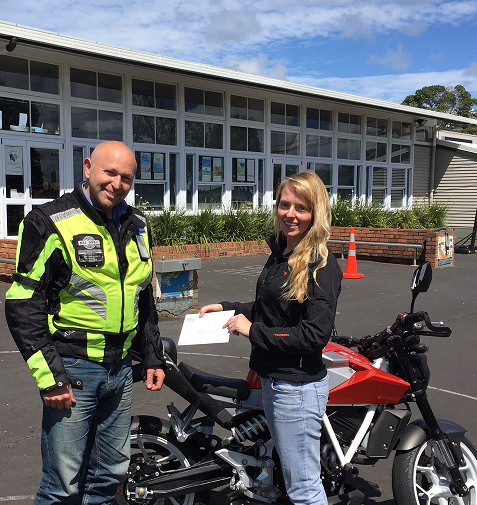 Brilliant input from Dave.
CBTA (Restricted Licence Test) with Invaluable teaching and feedback
One on one premium coaching
David is a great instructor – he puts you at ease immediately which means you can focus on areas for improvement and not worry so much. I feel more confident on the road and I'm actually looking forward to taking my test!
Basic handling skills training and test
Great way to start out….as a returning rider!